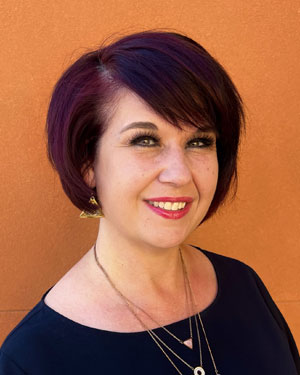 Meet Principal Pozzi
My name is Sharon Pozzi. I started my educational journey back in 2005 as a math teacher. I taught math for thirteen years, after which I transitioned to a role as a Curriculum and Instruction Specialist in 2018. I enjoy working alongside the teachers to help improve instructional practices and improve student success rates. I pride myself in collaborating with a team to create a safe learning environment, building relationships, and ensuring academic excellence for all students. I value the belief that we are never done learning and growing, and that this transformation happens best when working with a team that impels you to be better.
As for my personal life, I am a third-generation native of Arizona. Some of my best memories are made outside and include pine trees, tents, and fires. I have a loving and supportive husband and two daughters. The oldest is my step-daughter who is 23, and just graduated from Northern Arizona University with a degree in Business Management. My youngest just turned eleven years old and is in fifth grade, where she is enjoying her last year of elementary school. My family also includes two puppies. We have a year old Weimaraner named Hazel and Vizsla named Ryder.